Physiotherapy rehabilitation
Physical therapy and rehabilitation
Are you looking for physical therapy & rehabilitation
If you are a person who have been afflicted with conditions such as recovery from injury & conditions ranging from chronic pain, domestic, automobile or sports injuries or conditions that challenge mobility, physiotherapy rehabilitation is the right course to set on.
What is rehabilitation?
Physiotherapy rehabilitation aims to optimise patient function and well-being, to help integrate that patient back into their chosen lifestyle activities whether at home, work or leisure. Moreover, rehabilitation should focus on changes to functional disability and lifestyle restrictions based on the patient's own goals for functional improvement.
Physical rehabilitation is applicable for recovery from injury or disease and also for the management of long-term conditions (e.g., Parkinson's and MS).
Rehabilitation should start as soon as possible to speed recovery. The programs that combine many different components are likely to be most effective.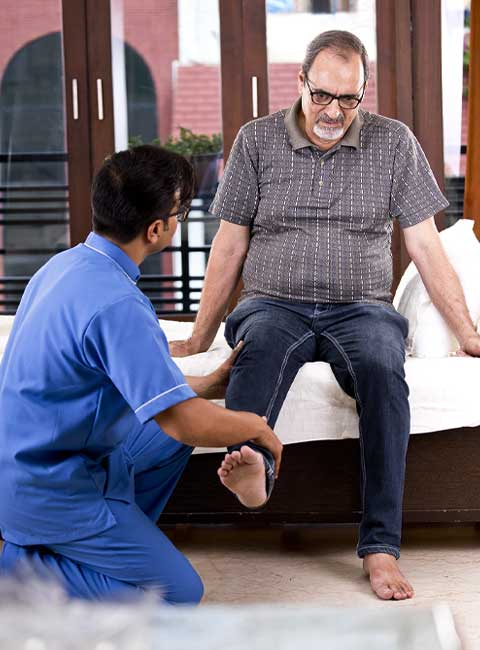 Road to Recovery
Rehabilitation should start as soon as possible
The Importance of Physiotherapy
Here are just a few reasons why opting for physiotherapy is important:
Range of Movement
An injury or a condition that is interferes with your range of movement, will impair your participation in day-to-day activities. Stiffness and pain in your shoulder, can lead to a case of frozen shoulder.
Additionally, Rent-a-Cure can assist to connect you with professional physiotherapists enabling patients with range of movement issues regain their mobility and be able to return to their usual level of activity and better care for themselves.
Exercise
Physiotherapists will assign therapeutic exercises. Rent-a-Cure can offer many of equipment's required on rent including mobility aids
Neurological Disorders
For patients who have suffered a stroke or have conditions such as Parkinson's Disease, physiotherapy plays a key role in aiding with correcting or improving the damage. Moreover, we have the aids & equipment the physiotherapist provides to compensate for deficits in gait, mobility and weaknesses. This helps to bring back full or partial function, and to stop further deterioration from taking place.
Pain Management
In any number of cases for both chronic pain or pain resulting from an accident or injury, physiotherapy will aid in pain management. Thus, it helps to  improve your quality of life so you can resume your daily activities, sports, and hobbies.
Physiotherapy helps to restore movement and function when someone is affected by injury, illness or disability. It can also help to reduce your risk of injury or illness in the future.
It takes a holistic approach that involves the patient directly in their own care.
When is physiotherapy used?
Physiotherapy can be helpful for people of all ages with a wide range of health conditions, including problems affecting the:
bones, joints and soft tissue – such as back pain, neck pain, shoulder pain and sports injuries.

brain or nervous system – such as movement problems resulting from a stroke, multiple sclerosis (MS) or Parkinson's disease.
heart and circulation – such as rehabilitation after a heart attack.
lungs and breathing – such as chronic obstructive pulmonary disease (COPD) and cystic fibrosis.
Physiotherapy can improve your physical activity while helping you to prevent further injuries.
The advantages of Physiotherapy –
Physiotherapy can provide pain relief to patients of all ages, no matter the variety of injuries or ailments. Also, once you consult and get help from a licensed physiotherapist, and get a treatment plan that works with your diagnosis, then you're ensured with a healthy and active life in the future.
For Physios
Rent-a-Cure Services offers a bouquet of products & facilities that complement your professional services. These incudes a range medical aids & equipment that are used to rehabilitate patients recovering from certain conditions or post-surgery.
Physiotherapists (in Chennai Area): Register with Rent-a-Cure Services and be featured on our website